Hi Kenneth, r

ead on for what's new on Elephind!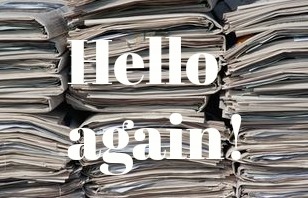 Welcome to the latest update from the Elephind team. It's been a while since you last heard from us as we've been busy behind the scenes updating and adding more newspaper collections for you to explore!

In this newsletter we'll share some of this new historical material and tell you a bit more about the Veridian discovery and delivery platform that brings them to life.
The

Columbia Record

: This new a

rchive of the

Columbia University Record is a regular publication of what is now known as Columbia's Office of Communications and Public Affairs. It runs from

September 1973

to the present.

Columbia University's

Spectator Archive

:

T

he archive of the

Columbia Daily Spectator

allows readers to explore the

second-oldest college daily paper in the United States. The latest content update brings the

run of the newspaper from 1877 to

2015.

Catholic News Archive

: A

project of the Catholic Research Resources Alliance (CRRA),

this growing collection of

Catholic research resources

has been updated to contain

10,971 issues comprising 254,941 pages.
The Columbia University Record

About
:
Beginning as the
University Record
(September 1973-May 1975) and continuing to this day as the
Columbia University Record
(July 1975-present), this university-wide publication is a rich resource of past Columbia activities, events, scientific research, trustee and faculty appointments, awards and honors, libraries news, departmental achievements, budget and financial reporting, faculty and staff updates, as well as profiles of campus personalities from 1973 to the present.

Chronological Coverage
:

September 13th 1973 to June 1st 2016

Publication Coverage: 2 publications, the

University Record

and the

Columbia University Record

.



Visit the Columbia University Record Archive HERE



Existing Collections Updated
Columbia Spectator Archive (Columbia University)

About
:

The Archive is the result of partnership between the Columbia Spectator and the University Archives, a unit of Columbia University Libraries. The

project enabled digitization of the full run of Columbia's University's student newspaper from the paper's beginnings in 1877 through to 2012.




According to Susan Hamson, the University Archivist, the Spectator is important not simply as a document of Columbia's past but also of New York City's history, covering its political, educational and social changes.
Chronological Coverage
:

July 1st 1877 to December 10th 2012

Publication Coverage:
C
olumbia Spectator



Visit the Columbia Spectator Archive HERE
The Catholic News Archive (Columbia University)

About
: The archive is a project of the Catholic Research Resources Alliance (CRRA), a non-profit alliance of archives and libraries collaborating in support of the mission to provide enduring global access to Catholic research resources. The goal is to provide access to all extant Catholic newspapers which are

crucial for scholars examining social, economic, or religious history in the United States.
Chronological Coverage
:

October 22nd 1831 to December 29th 1978

Publication Coverage:
12 Catholic newspaper titles which can be viewed

HERE





Visit The Catholic News Archive HERE

Bringing historical newspaper collections to life
Did you know that

Veridian

is the software that makes it easy to search, view and interact with digitized newspaper collections on the internet and on Elephind!
Veridian was designed specifically to organize large digitized newspaper collections and make them easily accessible to anyone online. Many, but not all, of the source collections that are searchable from Elephind.com are Veridian-based collections.  
The Veridian team
works hard to help attract an audience to the collections we help digitize; we create opportunities for that audience to engage with the content, with the library, and with each other; and we work with the library to develop and maintain the collection over time.

We hope you enjoy browsing the world's historical newspapers on the Veridian platform.



Visit the Veridian Software website HERE
Elephind Search Tip


Searching for someone's name? Try a "proximity search" like
"John Smith"~5
The
~5
part tells Elephind to find items containing both the words
"John"
and
"Smith"
where they are no more than 5 words apart. So as well as finding
"John Smith"
it will also find
"John J. Smith"
,
"John Frederick Smith"
,
"John Fullerton-Smith"
, and even "
Smith, John"
.
| | | | | | | |
| --- | --- | --- | --- | --- | --- | --- |
| |   | |   | |   | |